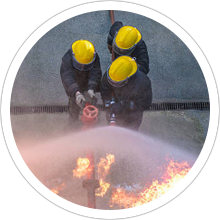 Title of course: 16-Hour Limited Gas Work Qualification
Course Description: To perform limited gas work under the direct and continuing supervision of a Licensed Master Plumber, as covered in section 101.2 of the New York City Fuel Gas Code, the applicant must have at least six months of full-time experience performing plumbing work under the direct and continuing supervision of a licensed master plumber. In addition, the applicant, when not registered as an apprentice in plumbing in a program approved by the New York state department of labor, must satisfy the requirement to demonstrate competence with gas work by completing this training program & submit a certificate of completion to the Licensing Unit for 16 hours of training as mandate by §28-423.3.
Topics include but not limited to:
Introduction to Gas Piping
Construction Codes 2014
Building Code 2014
Plumbing Code 2014
Fuel Gas Code 2014
Mechanical Code 2014
NYC Fire Code 2014 
Gas Testing
Gas Leak Detection
FDNY Emergency Response
Common Utility Processes & Procedures
Gas Work Business Practices
Gas Work Safety
Gas Work Hazards
Gas Work New Technology
Gas Work Violations
Pre-requisites: There are no pre-requisites for the course. Students must speak the language in which the course is given.
Objectives: Upon completion of this course, the students will be able to but not limited to:
Recognize Gas Work Hazards.
Implement Gas Work Safety.
Correctly use new gas work Technology.
Perform Gas Testing.
Course Materials: This course consists of several different components which include power point presentations, lecture, real life case studies, class discussion and hands on demonstration. We will provide a student manuals, Hands-on demonstration, and in-class practical exercises.
CEU's: 1.6
Course Price: $450
Course Duration: 16 Hours of training (not including class breaks)
Course and attendance Policy: Students must earn a 70% or more in their final exam in order to successfully complete the course. Students are required to complete 100% of the course and actively participate in all learning activities. Upon successful completion of the course, participants will receive a 16-Hour Limited Gas Work Qualification Certificate.
For additional information please contact us at 718-484-8122 or This email address is being protected from spambots. You need JavaScript enabled to view it.. You may also click on the link below to learn more about this course.
https://www1.nyc.gov/assets/buildings/pdf/16_hour_limited_gas_work_course_requirements.pdf